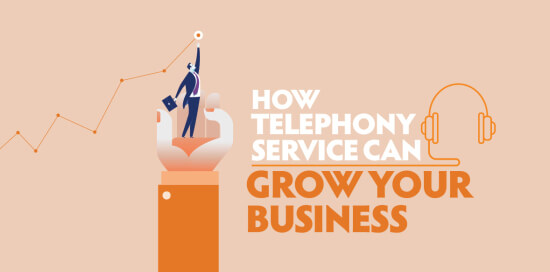 How Telephony Service Can Grow Your Business?
Businesses survive on profits and profits are gained through customers. When your customers are happy, your business speaks for itself. But it is no secret that a quality service is what entices the customer to choose your business. Speaking in a plaintive manner, it is a well-known fact that customers rush where there concerns are answered promptly. And the count of your customers mirrors your productivity.
But, how much productive you are?
Keeping a manual record of all the thousand customers or the hundreds of calls attended in a day is not a feat. As a business person your primary concern is your customer and to check if your executives are providing them with the right service.
Offering an excellent customer experience cannot be measured just in revenue numbers, but how happy your customer is. It is determined by overviewing your employee, who are representing your business at forefront. Given the number of agents involve in providing customer service, it is not easier to track them individually and judge their performance.
With SparkTG's contact centre solution, you can seamlessly track your employees while they are interacting with your customers. You can keep a check over the calls attended and the agents involved. The recorded calls can portray you whether your ensured QoS is delivered or not. So, it somehow tells you how efficient your employees are in making your customers satisfied.
What is the return on your business investments? what is the worth of each pie you spend for business? Are these the questions that surrounds your mind every time?
Well enough, with the cut throat competition, you need to be cautious about your investments and customer service somehow plays an indirect role in earning profits. Though their operations could not be measured like a sales department, they are certainly responsible for maintaining your customer count
With SparkTG's solution at hand, calls are answered quickly with effective routing to the right agent, reducing the time that gets spend in switching a call. Handling high volumes of call becomes easy as the call gets queued up. Information about the callers is collected to connect with appropriate agents in the future and avoid any hassles.
"We are doing better than others' or 'We have a good number of customers' will not just do. You have to be the best and for that achieving customer satisfaction is must and remember that "it takes month to gain a customer and seconds to lose one".