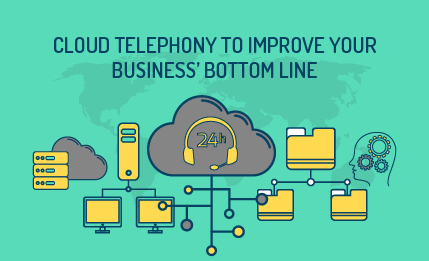 Cloud Telephony to Improve your Business' Bottom Line
Since ages, communication has played a vital role in the form of letters, calls, mails etc in doing business but technology has evolved these forms into a more advanced one where the latest being the Cloud Communication that has made telephonic conversation even more productive and meaningful.Not only for big businesses but also for the small or medium-sized businesses and startups, cloud telephony has been a miracle in raising the standards of their business by enabling them to give a professional image and have complete control of customer communication.
The competition is cut-throat and to form a grand market image, all you need is the input of an ultimate innovation in your existing work infrastructure. Cloud telephony plays the role to its best in doing so.
Talking of all this, you must know beforehand what is cloud telephony?
Cloud Telephony is an extremely efficient call service that requires no physical setup and upfront cost. To clarify, Cloud Telephony offers a quick and complete call management solution via cloud.
How this affects the business?
With Spark TG Cloud Telephony services, your business gets the access to the details of all the inbound/outbound calls in real-time along with complete details of the history of the calls. With Cloud Telephony Solution route the call to right destination using multiple logics available like skill based routing, location based, sticky agent etc. Spark TG's Cloud Telephony Solution helps to operate your business with ease irrespective of whether you are available in the office or not.