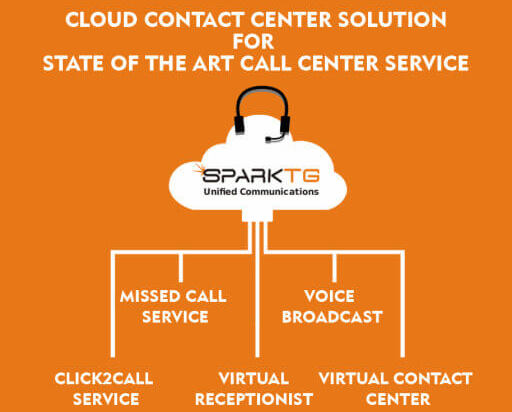 Cloud Contact Center Solution for State-of-the-Art Call Center Service
Call center is the most important department of an organization and the reason to it is the criticality it brings to the business. One must collaborate all factors responsible like technology, manpower, training to streamline its customer service because an effective and efficient call center will help you greatly in retaining and fortify the relationship with your customers. Because of multiple factors involved and the critical role each plays it is important to have a detailed and thorough understanding of each. Being a Contact Center Solution provider we understand that the installation and management of call own call center software & hardware is not only a complex process but has its limitations too. Apart from managing it 24X7 with a proper Server room and a skilled resource, one has to have provisions for scalability and redundancy too. Being a Cloud provider we maintain not only the hardware and software at our end but also ensure complete redundancy and scalability is offered so that their is no intermission in service. With our extremely commodious service, you can help your business grow to the next level.
The perfect platform for communication management bridges all the gaps between the company's productivity and flexibility to compete the ever happening change in business environment. SparkTG has developed a state of art communications system that is designed to meet the present requirement and standards of any organisation along with scalability to ensure future growth. The solution ensures a tangible profit after investment on on the solution through the wide range of tools and features for an enhanced efficiency and productivity
Virtual Contact center
A virtual contact center solution helps you manage your Contact center calls as well management of your agents with its centralised system irrespective of the location of the agents. Its real-time statistics and thorough reports give you the complete understanding of your Contact Center and lets you take instant decisions to increase its efficiency. It gives the control to you to optimise the resources in the best possible way.
SparkTG's virtual call center let you:
Manage and handle contact center from anywhere
Manage agents easily
Receive and make customer calls
Have a multi-level IVR with an option to have auto answers on certain inputs through API exchanges
ACD, Skill based, location based call routing
Increase efficiency and productivity
Track every critical metrics in real-time for better management.
Enhance agent's performance through proper training and coaching
Optimise resources
This service is widely known to enhance the business leads by converting the website visitors into sales lead. SparkTG will help you by:
Placing Click2Call API on your website and won't let you lose any website visiting lead by initiating an instant voice connect
A modernization of traditional receptionist who will work 24X7 and offer a professional feel to your organisation:
Simple Inbound solution
Lowered costs and enhanced customer interaction with proper call routing via an IVR
Completely tracked and real-time call records & recordings
Voice Broadcast
A commonly used commercial technique used to notify a significant number of clients in minimal time:
Important promotion, updates, notifications,alerts and for much more
Top marketing tool
Ability to take customer consent with IVR at end
Ability to merge different fields to give a personalised broadcast
Missed Call Service
Get interested leads data by taking their consent to contact via Missed Call Campaign. The solution helps to capture the campaign effectiveness.
Get real-time reports to immediately touch-base with the customer post taking the consent